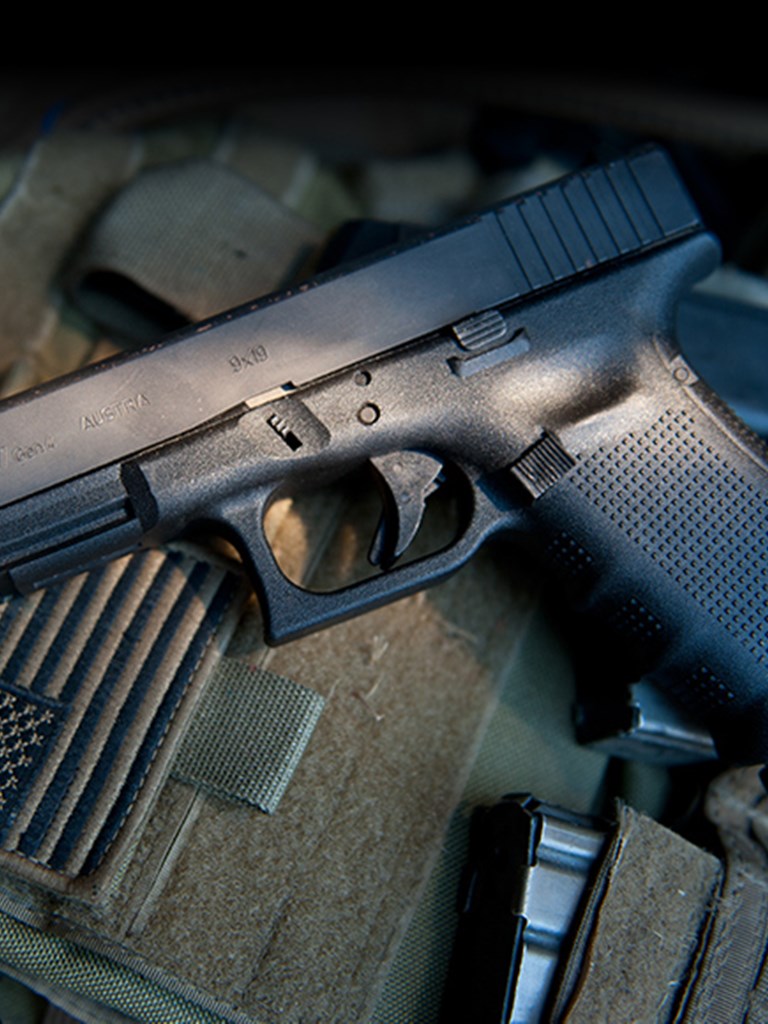 GEN4 - THE NEXT GENERATION OF PERFECTION
The 4th Generation of the GLOCK "Safe Action"® System pistol brings revolutionary design changes to the world's most popular pistol.
GEN4 - THE NEXT GENERATION OF PERFECTION
GLOCK Gen4 Pistols
GLOCK Gen4 pistols have a few key innovations that make the gun suitable for smaller profile hands and varying experience levels: interchangeable backstraps, a reversible magazine catch, a dual recoil spring assemble, and a rough textured frame.
Modular Back Strap System
GLOCK Gen4 pistols come with a modular back strap system, allowing you to choose the back strap that best fits your grip without changing your grip angle. Two back straps are included with your Gen4 pistol: medium, which adds 8/100 of an inch from the back of the grip to the trigger, and large, which adds 16/100 of an inch. The smallest back strap is incorporated into the frame of the pistol.
Enlarged Reversible Magazine Catch
The magazine release catch of the Gen4 is reversible and enlarged, allowing you to easily switch the catch to the left or right side of the pistol with no additional parts.
Dual Recoil Spring Assembly
The Gen4 pistols have been upgraded to a dual recoil spring assembly. The dual recoil spring assembly noticeably reduces the recoil you feel, while simultaneously increasing its lifespan.
Rough Textured Frame
The Gen4 has a new Rough Textured Frame (RTF) surface designed to enhance grip traction, present on the frame as well as the interchangeable back straps.
All sizes
All features
All calibers
All Usages