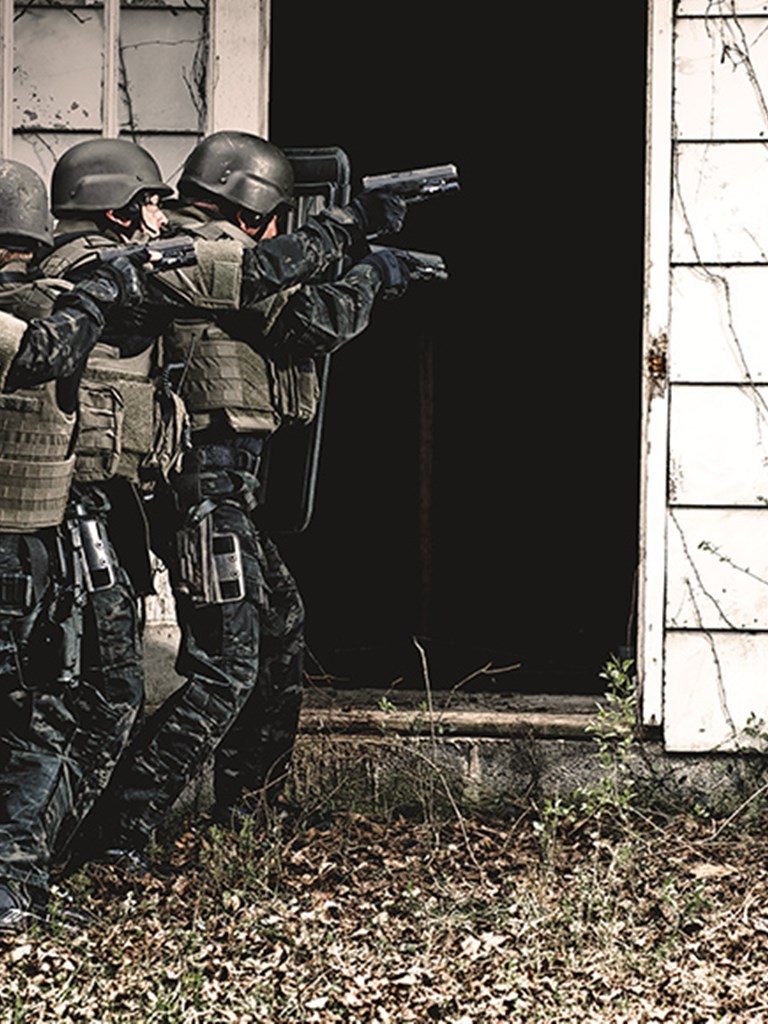 Professionals
Professionals
Professionals
GLOCK Professional Inc. provides professional training to law enforcement, military, licensed security and other personnel who desire to utilize the GLOCK SAFE ACTION® system to its maximum potential. Armorer, Advanced Armorer, Instructor Workshop and G18 Select-Fire classes are available to provide information and recommendations for the safe, responsible and effective use of GLOCK handguns and other products.
GLOCK pistols are used by many law enforcement agencies around the world and these classes are held throughout the United States and Canada. Courses include both classroom and live-fire range training.
Visit GLOCKtraining.com for class descriptions, the current training schedule and other relevant information.
---
Law Enforcement and Military Training
GLOCK offers two courses that are only available for law enforcement and military professionals.
The Instructor Workshop (IW) class is an open forum where GLOCK Professional instructors and students exchange ideas, range drills and real-world experience on how to most efficiently train large numbers of students on the GLOCK pistol. Class length is two and a half days (20 hrs).
The G-18 Select-Fire (G18) class is a one-day (8 hr) course, and covers both armorer and operator instruction for the GLOCK Model 18 pistol.
NOTE: Law enforcement and military professionals are eligible for a discount on GLOCK pistols through our BLUE LABEL PROGRAM.
---
Armorer training
Armorer training is very important. Learning how to maintain, service and repair GLOCK pistols properly could literally make a difference between life or death. Any firearm that is incorrectly assembled could lead to an unexpected malfunction, which is why GLOCK firmly believes that anyone servicing a firearm must have factory-certified training.
GLOCK Professional currently provides factory certification as an 'armorer' with a basic and an advanced class throughout the United States and Canada.
Basic armorer training
In the basic Armorer's Class (AC), students learn to maintain and service all GLOCK pistol models. In this one day (8 hr) class, students are taught about the design of the
SAFE ACTION® System
, detailed disassembly and reassembly of all models, recommended service schedules, and parts replacement. Certification is granted for a three year period.
Advanced armorer training
In the Advanced Armorer's Class (AA), students review basic armorer information and progress into more specialized diagnostic and inspection procedures. Students also identify issues and problems set up by instructors for a variety of GLOCK pistols including six different calibers and all four generations of GLOCK firearms. This two day (16 hr) class utilizes past and present GLOCK models. Students receive a five year certification.
Operator Course
This training course is designed and intended for public safety professionals who have successfully completed a basic pistol course and want to improve their skills. This course is not recommended for those who have not attended official training programs. This course is a dynamic shooting course that requires the ability to stand for long periods of time, shoot on the move, move into and recover quickly from kneeling and prone positions.
---
Blue Label
Some professionals are eligible for discounts on GLOCK pistols.
Learn more about the GLOCK BLUE LABEL PROGRAM.