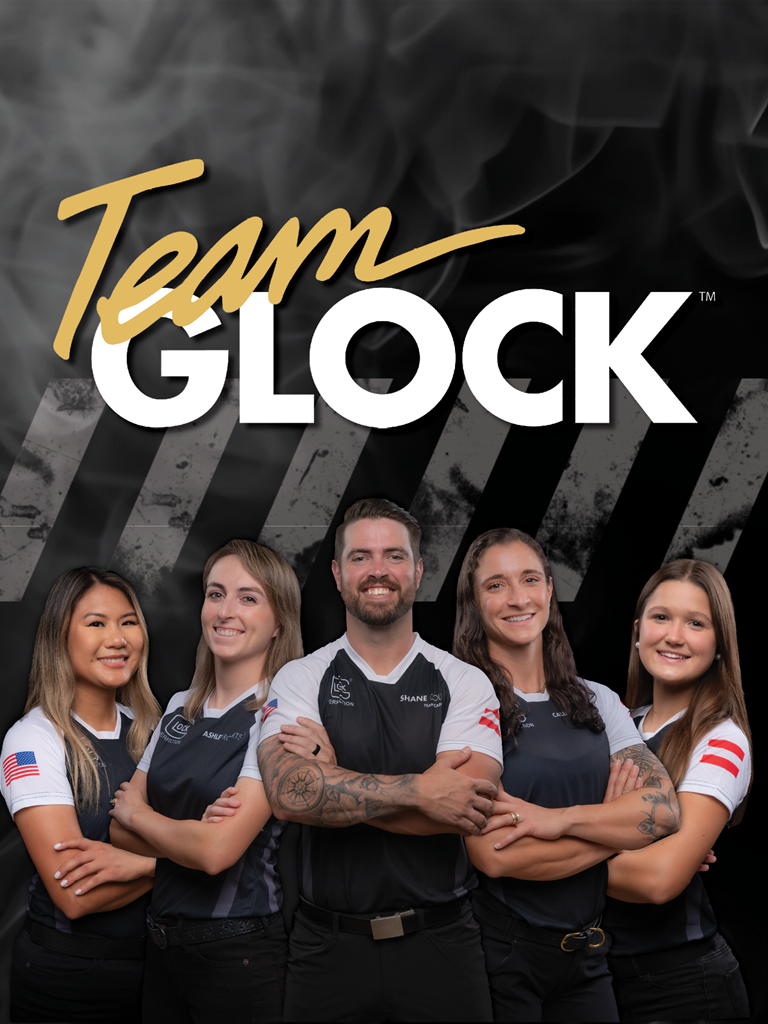 When Only the Best Will Do
Our elite team of shooting professionals competes against the-best-of-the-best in the U.S. and around the world. Our team includes Team Captain, Shane Coley and team members Ashley Robertson, Thy Ngo, Callerina Woodard, and Morgan Leonhardt. We are extremely proud to have these highly skilled ambassadors representing GLOCK.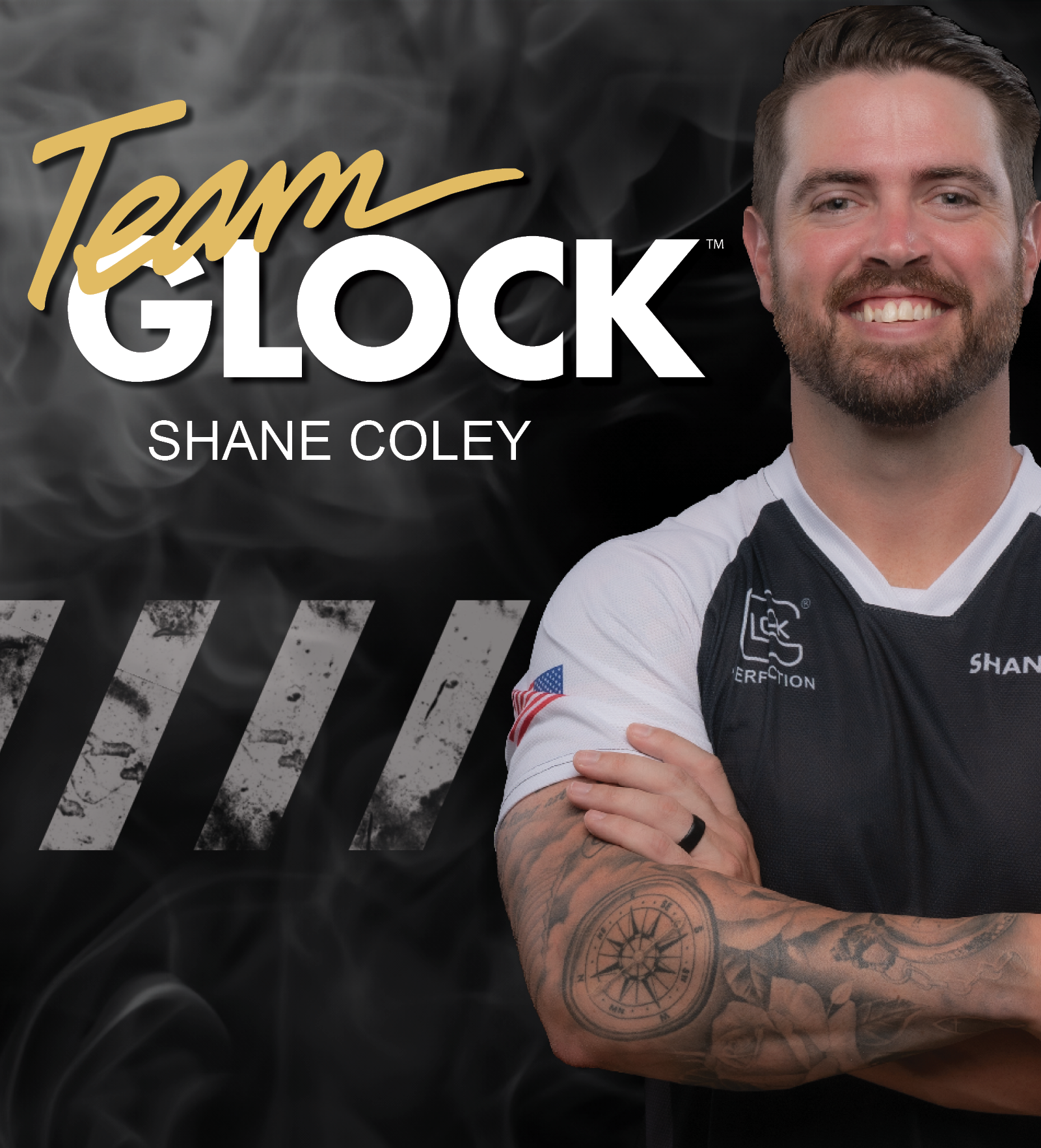 Shane Coley
Shane Coley started his shooting career in 2005 at the age of 14 under the direction of his father, Rock Coley, who is a retired Police Officer of 31 years. He immediately fell in love with the competition and decided he wanted to make a career out of the sport. In 2009, he enlisted in the US Army to be a member of the United States Army Marksmanship Unit as a part of the Action Shooting Team.
Read More

As a member of the Action Shooting Team, Shane traveled all around the world competing in National and International level competitions, representing his unit and country with the utmost professionalism. He captained two Junior World Shoot Teams to two Gold medals in the IPSC World Championships in Indonesia and Greece, and in 2011 completed his first deployment in Kabul, Afghanistan. In 2012, Shane became the second youngest USPSA National Champion at the age of 21. He continued his success by winning two more National titles, and leading the Men's World Shoot Team to another Gold medal in the 2014 IPSC World Championship and simultaneously earning a silver medal in the individual category. In 2015, Shane ETS'd from the US Army after six years of service, 3 National titles, 3 Team World Championship titles, and multiple Area and Regional titles. Shortly after his ETS, he accepted a position as Captain of Team GLOCK where he continues to travel and compete all around the world as a positive brand ambassador and professional athlete for GLOCK, Inc.

"Joining the US Army taught me a lot about myself and gave me the drive and motivation to be the best. Now, with the incredible support of GLOCK, I want to leave a legacy across the shooting community and inspire everyone to follow their dreams."

Favorite Pistol: GLOCK 47 MOS

Accomplishments: 3X World Champion, 14X National Champion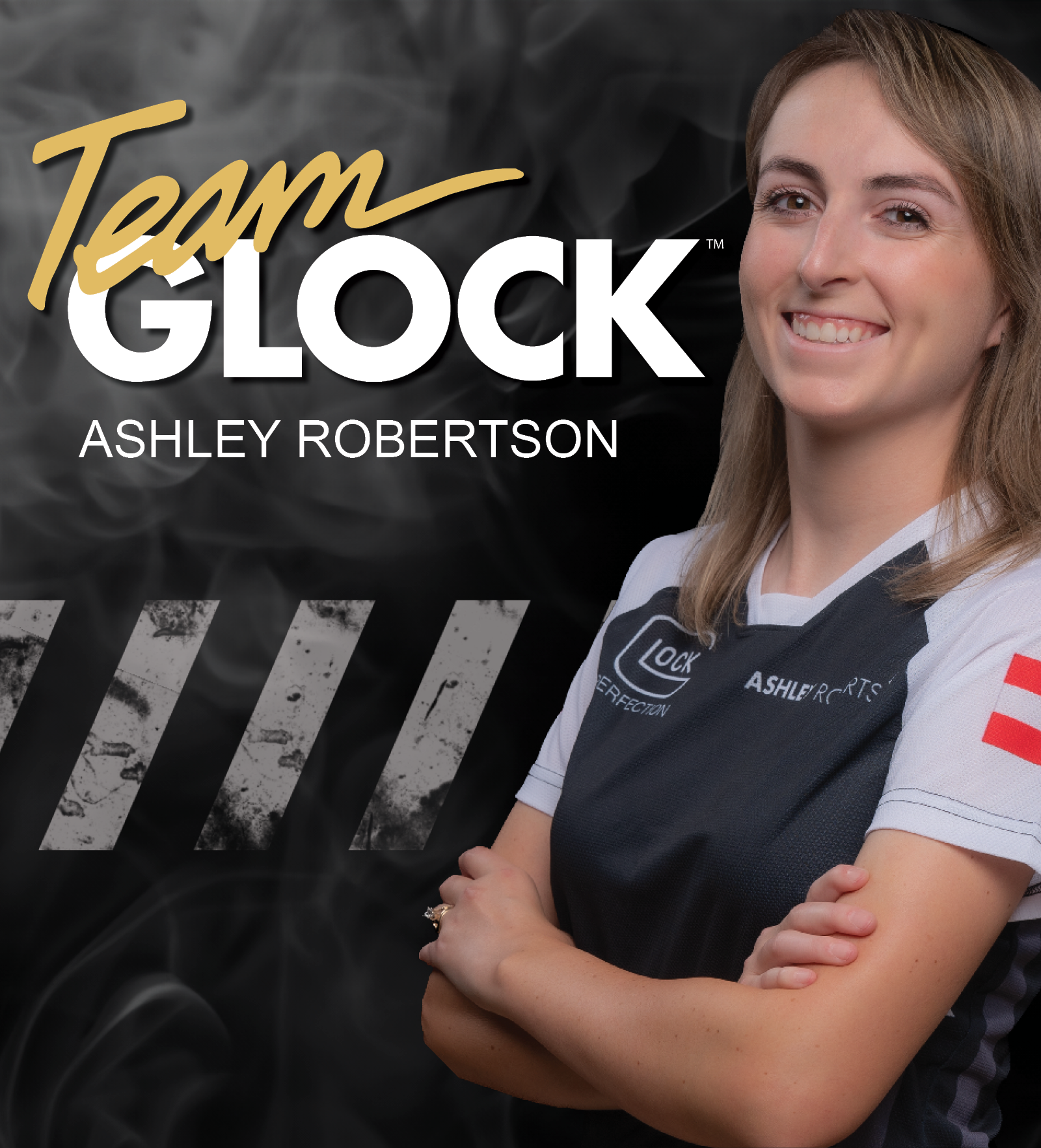 Ashley Robertson
Ashley was first introduced to firearms at a young age while hunting with her dad. When her father purchased a GLOCK 19, Ashley attended a basic pistol class to learn the basics of firearm safety and fundamentals. It was from that class she was introduced to the shooting sports and started her journey in the sport which she has been in for more than ten years.
Read More

She started in IDPA and Steel Challenge, and has proceeded to compete in USPSA, IPSC, IPSC Rifle, and 3 Gun. Throughout her time in the sport, Ashley has won numerous titles and awards, including multiple State, National and World titles. She also has the title of USPSA Grand Master and IDPA's first female Distinguished Master. Ashley attributes her success to many things, her faith, family, sponsors, and dedication to hard work in practices. When Ashley is not on the range, she enjoys spending time with her husband, family, friends and their two dogs, Opal and Sebastian. Some of the best days are out on the lake with family, church on Sunday mornings, running around at the dog park or date night watching classics like Survivor and Star Wars.

"I love meeting everyone out on the range and sharing our common interest of the shooting sports. It's a great way to bring people together and promote the safe handling of firearms."

Favorite Pistol: GLOCK 34 MOS

Accomplishments: 12X World Champion, 19X National Champion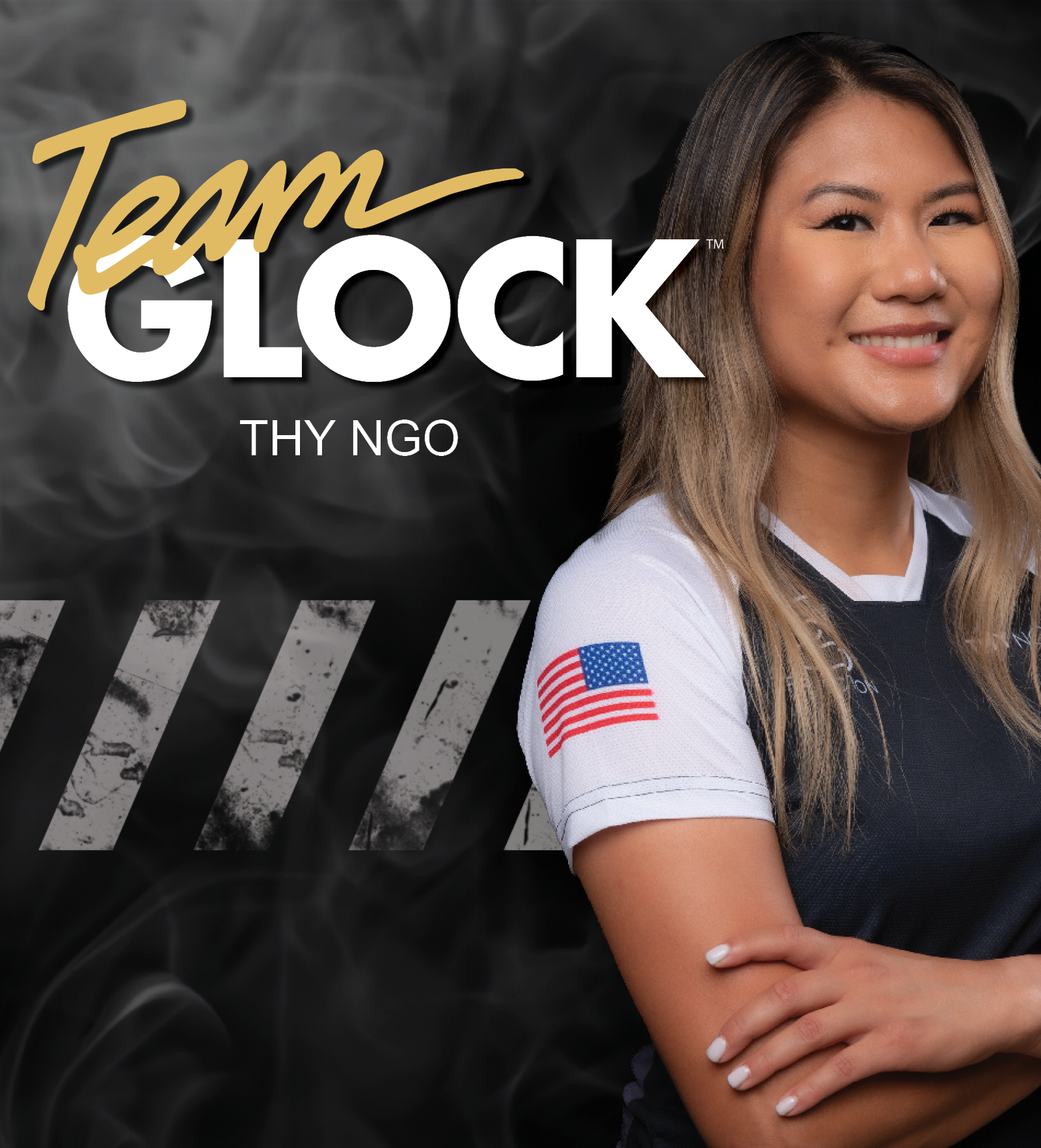 Thy Ngo
Thy purchased her first firearm, a Glock 43X, in 2020 for self-defense. After a few sessions at the range, shooting quickly became a passion. She was fascinated with the practical application and was determined to advance her skills. Thy was introduced to the world of competition shooting and fell in love immediately.
Read More

Within three years, she has competed in over twenty major matches and has already achieved numerous podium finishes, including multiple class and category wins.

Her competitive nature and determination drive her commitment to learn, develop, and succeed.

"Joining Team GLOCK is a dream come true. I am deeply honored to contribute to and be a part of the best team in the shooting sports industry. I am always seeking to reach the next level, and I am confident the support of Team GLOCK will help me get there."

Favorite Pistol: GLOCK 43X

Accomplishments: 3X Area Champion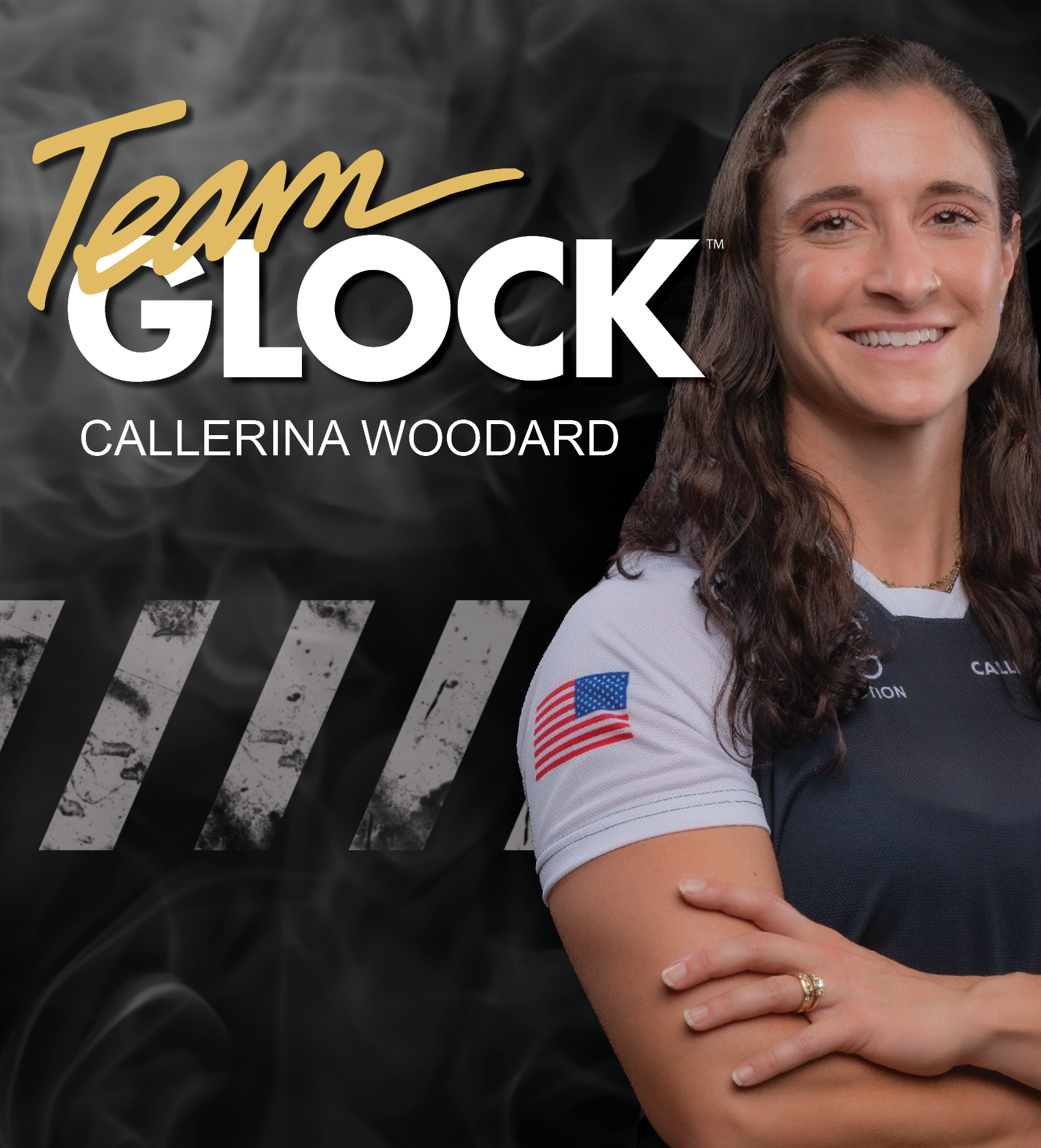 Callerina Woodard
Before Callerina got into shooting, she was involved in track and field and ran for the University of Alabama in Birmingham as an NCAA athlete.
After college, she attended Chiropractic school and graduated from Life University in Marietta, Georgia, in 2015.
Read More

In 2019, a close friend introduced her to a new sport called The Tactical Games, which combines intense physical fitness with rifle and pistol shooting. He thought it would suit Cally well since she had a solid foundation of shooting and firearm safety, and she had been competing in CrossFit for many years. Her first competition took place in Georgia, and she quickly realized that shooting while on the move was much more challenging than previously anticipated, and from that moment she knew this was her sport. Each stage of the competition aimed to exhaust Cally physically before taking aim at the target. Despite this eye-opening experience, it completely changed her perspective on shooting sports, and the rest is history. Since 2019, Cally has participated in 10 events and achieved numerous podium finishes.

"I am extremely excited for this opportunity to compete with Team GLOCK, and support others as they enter the world of competition shooting. We have the best community in the shooting sports, and I can't wait to meet everyone as they continue to pursue their passions."

Favorite Pistol: GLOCK 34 MOS

Accomplishments: Crossfit Regionals Competitor, Tactical Games Elite Athlete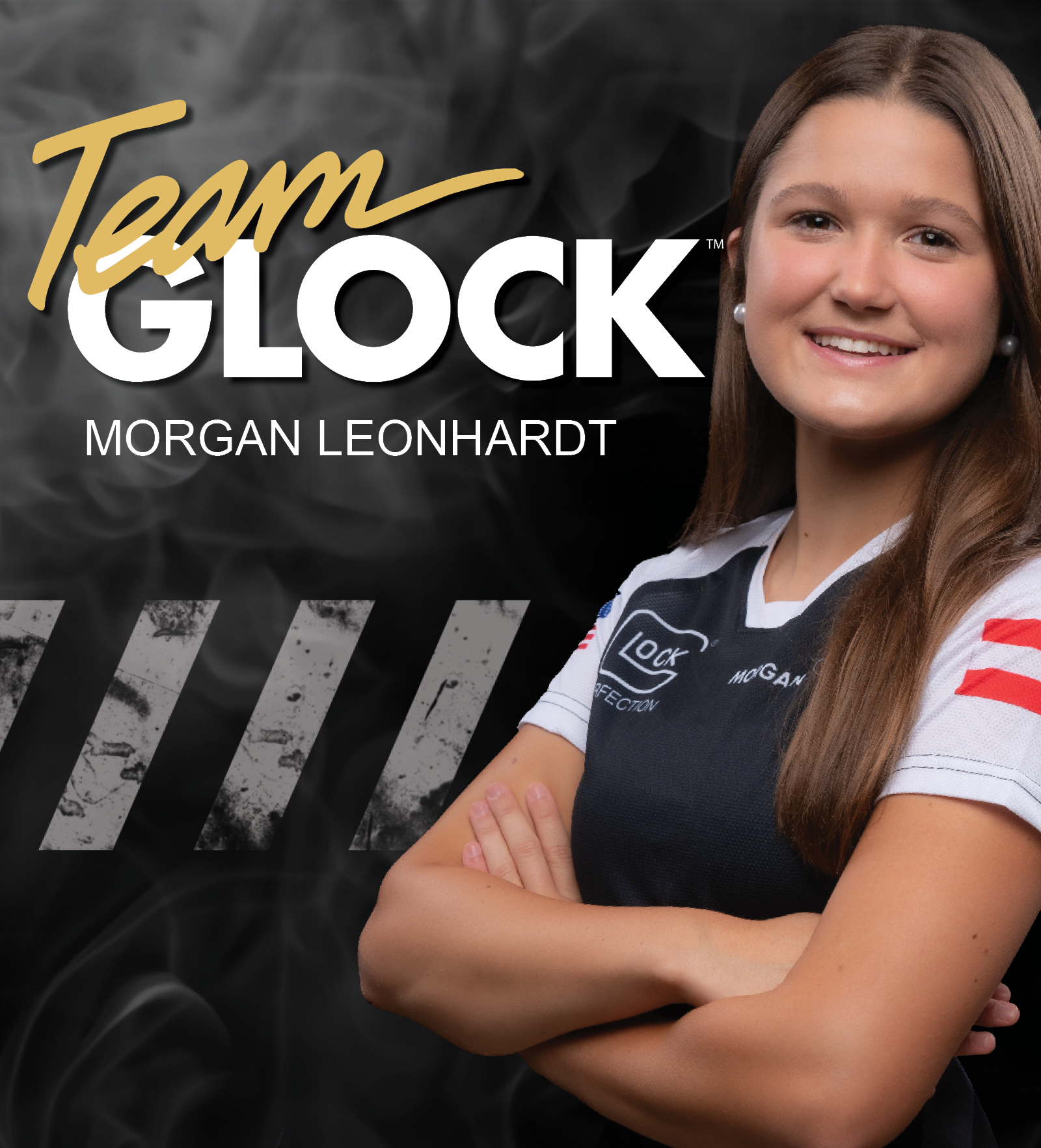 Morgan Leonhardt
Morgan began her shooting journey at 9 years old, with a GLOCK 34, after watching her dad shoot a local match. She quickly fell in love with the sport and couldn't get enough. She truly enjoys the community that competitive shooting has built for her, including the other competitors, friends, and family that have helped her along the way.
Read More

By the age of 15, Morgan has become the youngest USPSA National Champion and IPSC World Champion, all while competing with her GLOCK 17 MOS. Morgan loves sharing her knowledge and passion of the shooting sports with others. Sports, like USPSA, allow you to gain confidence and build your skillset with a firearm. Plus, you get to meet a bunch of really fun people that enjoy doing the same.

"I'm excited to continue my shooting career with the most prestigious company, GLOCK, Inc. We have an amazing team that helps each other grow and we all strive to be the best shooters and ambassadors that we can be!"

Favorite Pistol: GLOCK 17 MOS

Accomplishments: 1X World Champion, 2X National Champion
Visit Team GLOCK at an upcoming competition:
2023 USPSA Area 8 Championship
25 – 27 August / New Tripoli, PA
GSSF Annual Shoot
15 – 17 September / Talladega, AL
USPSA Iron Sight Nationals
6 – 8 October / Marengo, OH
IDPA World Championship
12 – 14 October / Talladega, AL
USPSA Area 2 Championship
10 – 12 November / Mesa, AZ
IPSC National Championship
17 – 19 November / New Smyrna Beach, FL
Connect and talk with Team GLOCK members on GLOCK IQ